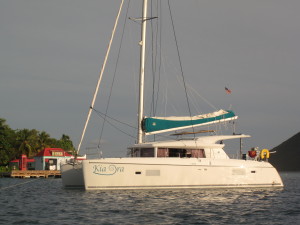 Welcome to Kia Ora
Thank you for considering Kia Ora for your sailing vacation. I have found that Kia Ora is a very capable sailing vessel, sailing well in light wind but still handling large ocean seas safely. We have outfitted her for cruising comfort by anticipating your every need, even before you know what those are! The result is always an exceptional sailing experience.

We are a Colorado couple enjoying the typical Colorado lifestyle including outdoor activities such as skiing, biking and hiking. We strive for a healthy lifestyle and value the extraordinary experiences that life has brought to us, be that the places we go, the fine foods that we eat or the friends we meet throughout these amazing journeys.

Together we create an amazing team to not only pamper you while you're staying onboard Kia Ora but to provide a safe and comfortable sailing experience. Come on down, bring your friends and family, stay 5 days or 2 weeks. <We are certain that you'll be creating memories to cherish for life! We are here to help you create memories to cherish for a lifetime!
Fair Winds and a following Sea.

Captain Scott Burkhardt
303-668-6787
Scott@SailKiaOra.com